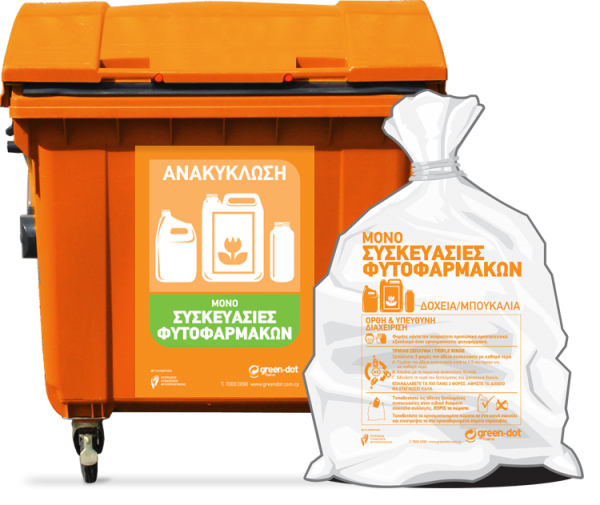 Pesticide packaging are described as hazardous waste because of their content. However, if the necessary instructions are followed, the hazardous description can be lifted and it can be managed in the same way as other packaging.
Green Dot Cyprus in cooperation with the Cyprus Crop Protection Association, the European Crop Protection Association and the Greek Crop Protection Association have undertaken the task of collecting and managing pesticide packaging from all the districts of Cyprus.
Pesticide packaging is collected by using special bins of orange colour which are placed in a large number of stores throughout Cyprus where pesticides are sold.
Information Procedure
Managers of Stores where the specific bins have been placed should inform farmers about the collection procedure in place and hand them 1 empty bag each so that they may gather their empty packaging and return them to the selected sites.
Instructions to the farmers:
Packaging is to be washed out in water three times.

They are to be left out to dry so there are no liquid remnants

Having been washed and dried, they should be placed in the recycling bag given by the plant store.

The lids of the packaging should be placed in a separate plastic bag.

They are to be handed over to the store manager at the points where bins have been placed.
The triple rinsing out has shown in relative tests that it removes 99.9% of the product from the container and this justifies the inclusion of pesticide empty containers in the non-toxic waste.
The triple rinsing out of the empty packaging as well as their handing over to the sales stores, apart from helping to maintain the agricultural premises of the producer free of plastic waste, is at the same time the obligation of every producer within the framework of the program of proper farming policy implemented by the Ministry of Agriculture.
Instructions for store managers:
The bins are always kept locked. The key is kept by the store manager and the collector of the materials.

When the farmer brings in a bag, the cleanliness of the materials delivered is checked visually (as much as it is practically possible).

If the materials are clean, a delivery receipt is signed and a copy is given to the farmer while 2 other copies are kept by the store (one for the company and one for the crop protection association). All data of the farmer and the receiver are entered. Then, a self-adhesive label of RECEIPT of the material is completed and attached to the bag with the data of the farmer and the receiver and the bag is placed into the bin.

If the material is not clean, then a self-adhesive label of REJECTION of the materials is completed and attached to the bag with the data of the farmer and the receiver and the bag is returned to the farmer.

An empty bag is handed to the farmer.