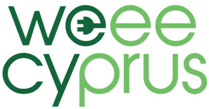 WEEE Cyprus is the only Collective System for Waste Management of Electrical and Electronic Equipment. It was established on the initiative of the Cyprus Chamber of Commerce and Industry (CCCI) on June 1, 2006, as a non-profit organization, in accordance with the provisions of the K.D.P. 668/2004 of the Law on Solid and Hazardous Waste (Law 215 (I) / 2002).
The creation of WEEE Cyprus stems from Law 215 (I) / 2002 which defines the framework of responsibilities and obligations of the producers of Electrical and Electronic Equipment (E.E.E.) which in the case of Cyprus are almost entirely companies that import Electrical and Electronic Equipment in the Republic. The goal of the Organization is the recovery and recycling of the percentage of waste electrical and electronic equipment provided by law and the provision of legal coverage to its member companies.
On Friday, June 19, 2020, the third re-Approval of the Operation License of WEEE Cyprus was signed by the Minister of Agriculture, Rural Development and Environment, Mr. Costas Kadis, which is valid until June 30, 2026.
The re-approval of the WEEE Cyprus License renews the State's trust in the WEEE and the Company's commitment to continue working conscientiously to serve our fellow citizens and for the good name of the country.
The System has opted to cooperate with the organization Green Dot (Cyprus) Public Co Ltd for the organizing and administration of the System regarding the management of the W.E.E.E. Within the framework of the better organization of the system, the Administration of the System has opted to also cooperate for the organizing of the System with a corresponding system in Austria, the company ERA GmbH.